About: Players By Year
List of Players who Appeared in Games for the Buchan Bakers

The rosters of the Buchan Bakers changed over the course of the season as players were added and dropped in accordance with their availability. The Buchan Bakers' schedule often included prolonged road trips, and players had to juggle their work demands with the team's demands. In addition, players who had completed their senior seasons in college were added to the team for post-season tournaments.

Here is an unofficial list of players who appeared in games for the Buchan Bakers.

Northwest League Champions 1951-52 – Duane Berentson, Rod Gibbs, Dar Gilchrist, Dick Hirkenroth, Tom Leonard, Don Mullen, Robert Pavilcek, Kermit Scott, Louis Soriano, Jack Ward, Tom Ward, Bill Higlin, Frank Guisness

1953-54 – Joe Cipriano, Will Elliott, Charlie Koon, Doug McClary, Mike McCutcheon, Don Mullen, Chet Noe, John Rognan, Sid Ryen, Doug Talbot, Bill Ward, Jack Ward, Ron Westover, Dwight Morrison, Ed Halberg, Ken Wegner, Don Tripp.

1954-55 – Arlen Bockhorn, Joe Cipriano, Ed Halberg, Jim Harney, Charlie Koon, Hartley Kruger, Nick Mateljan, Larry Ramm, Bill Rehder, Eric Roberts, Don Tripp, Ed Tucker, Dean Parsons, Stan Glowaski

1955-56 – Joe Cipriano, Stan Glowaski, Frank Guisness, Ed Halberg, Phil Jordon, Charlie Koon, Dean Parsons, Joe Pehanick, Bill Rehder, Eric Roberts, George Swyers, Bruno Boin, Jim Coshow (Dick Boushka, Terry Rand, and Dick Eicher played for the Bakers in the Olympic trials in 1956.)

1956-57 – Marv Adams, Richard DeWeese, Stan Glowaski, Bob Godes, Ed Halberg, Charlie Koon, Gene Lundgaard, Warren Moyles, Ron Olsen, R.C. Owens, Dean Parsons, Ron Patnoe, Doyle Perkins, Jack Thiessen, Les Whittles, James Winters, Dick Stricklin. (Charlie Brown of Westside Ford and Bob Bryan of Federal Old Line played for the Bakers on a six-game Midwest road trip against NIBL teams.)

1957-58 – Larry Beck, Ramon Bell, Bruno Boin, Carl Boldt, Bob Bryan, Stan Glowaski, Charles Koon, George McLaughlin, Ron Patnoe, Larry Ramm, Zip Rhoades, Dick Stricklin, John Tuft, Doyle Perkins.

National Industrial Basketball League Teams
1958-59 – Jack Allain, Carl Boldt, Art Day, Charles Franklin, Lloyd Harris, Charlie Koon, Larry Ramm, Dick Stricklin, Rolland Todd, Carroll Williams, Larry Beck, Gene Brown, Bruno Boin, Charlie Brown.

1959-60 Orby Arnold, Bruno Boin, Dick Brott, Charlie Brown, Art Day, Jerry Frizzell, Pete Gaudin, Dave Hollingsworth, Bob McLaughlin, Rolland Todd, Jim Wallace, Carroll Williams, Milt Williams, Don Woodworth, Larry Chanay, Dave Mills

1960-61 – Al Abram, Dick Brott, Bernie Coffman, Pete Gaudin, Dick Gregory, Leon Hill, Pete McCaffrey, Bob McLaughlin, Frank Potter, Jim Severs, Bob Sims, Milt Williams, Don Woodworth, Rueben Young, John Maras, Bob Failes, Tom Rowan.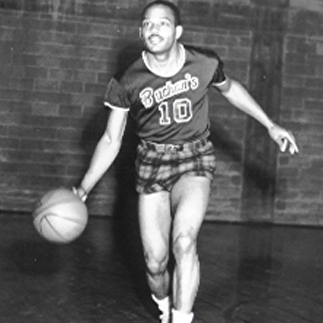 Buy The Book On Amazon
Longshot: The Story of the Buchan Bakers
This is the story of the Buchan Bakers, a team of homegrown heroes from the Pacific Northwest who dared to compete with the biggest programs in amateur basketball. Against all odds, the Bakers from Seattle defeated the legendary Phillips Oilers for the National AAU Championship in 1956, earning its place among the elite of amateur basketball. This book follows the Buchan Bakers from the team's beginnings, the championship season, goodwill tours through Asia and behind the Iron Curtain, and entry into the National Industrial Basketball League.
Order Book